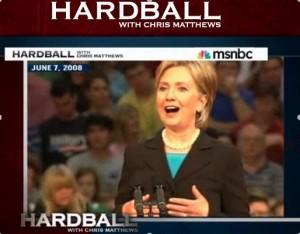 These past two years, we have been stunned by a pundit class offering everything from grudging to glowing praise of Hillary Clinton, a candidate they had roundly excoriated four years earlier. What changed? And will the men and women in mainstream media who exhibited a reckless, cruel bias toward not only Hillary, but her supporters, now pretend the debacle of the 2008 primaries never occurred? Today, watching their vapid, verbal sparring in expensive suits as they sit behind well-appointed desks, butter wouldn't melt in their mouths. Yet, it is important we not forget their breach of responsibility, lest past become prologue in 2016 and beyond. The specter of Secretary Clinton loomed large at the Democratic Convention in Charlotte two weeks ago. Though she was working half way around the world as President Clinton offered up his Convention speech on President Obama's behalf, the #1 trending twitter hash tag that night was: "Hillary 2016." Inquiring minds want to know – will she run again? And so, the feeding frenzy has begun, two months before we even have the results of the current critical election.
Chris Matthews of MSNBC's Hardball was one of Secretary Clinton's worst "man-handlers." Now, he leads the parade discussing Hillary's prospective 2016 run and how she might prevail. He offers a demeanor innocent as that of a newborn, behaving as though he had rooted for her all along:

When Matthews says, "She was dynamite in New Hampshire," one may recall his many "bi-polar" comments about Hillary… Perhaps Matthews would rather we forget he basically accused an entire state of being racist (referencing the "Bradley Effect"), since she beat all polling averages to pull out a win there. Matthews didn't think she was "dynamite" then, as evidenced by this litany: "Nurse Ratched," "she devil," "Madame DeFarge," "domineering mother," "The only reason anybody voted for her is they felt sorry for her because her husband messed around." Matthews also dubbed her male supporters "castratos in the eunuch chorus."
His current about face might simply be a manipulation to seduce voters to the polls for Obama, thinking that would somehow bode better for Hillary Clinton's Presidential future. But the very existence of this video at this premature stage showcases the wrongheaded focus of the media, and particularly the ghoulish fascination with all things Hillary or Palin. The modus operandi of "chew them up and spit them out" is more about ratings than having the decency to judge a woman solely on the merits – or more important, keeping our focus squarely where it should be – the current race and who would be best to lead us out of the difficulties in which we now find ourselves.
Guest panelist and ex-Congressman Harold Ford Jr. made an interesting comment in praise of Secretary Clinton when he tactfully offered that we were hungry for someone who loves politics and policy, is extremely hard working and knows her way around. But then there was Joan Walsh of Salon.com trumpeting the false narrative that Hillary Clinton acted "entitled" last time, not courting Americans or asking for their votes. Bull crap. It is true she evolved into a better candidate as the race wore on – but she has always worked hard for everything she got. I never saw a politician more prepared out on the trail or more willing to engage in specifics, reaching out whether or not she got a warm reception. Journalists' and pundits' revisionist history is a function of their need to assuage guilt or, more likely, to dodge blame since they didn't bother with vetting and proper focus last time out.
That never stopped the likes of Margery Eagan of the Boston Herald from beating on Clinton. As Eagan puts it in "An Apology to Hillary":
"When her husband was president, I made a career out of trashing Hillary Clinton's hairdos, pantsuits, her attempted health care coup, her right-wing conspiracy theories, her staying with that slippery serial philanderer. Four years ago in the presidential primary I rooted for Obama over her."
Many have made a lucrative career out of thrashing Hillary and other powerful, inconvenient women. That's really the bottom line here, isn't it? It's all a business.
And now Eagan says…
"She then went on to perform [as Secretary of State] so ably that nearly two-thirds of Americans, an almost unprecedented percentage, approve of her…
More than once since 2008 I've wondered: Would she have done a better job than Obama? I don't know. But I do know I sold this woman short."
But Ms. Eagan's apology and others like it are far less important than the cognitive dissonance that remains today. The New Republic just offered a piece by Neera Tanden, Why Democrats Need a Woman on the National Ticket.
In it, Ms. Tanden praises Democrats for showcasing deep diversity, while stating Dems need to elevate a woman to high office. I agree on the second point, but as to the first, where was all the diversity of which she spoke? Our female Senators? None of them got a prime time speaking slot. We saw 25-year veteran Senator Barbara Mikulski flanked by her 8 sisters Senators for a photo op while she made a wonderful 6-minute speech that few people probably heard. "Every issue is a woman's issue," Mikulski said. This was one of the most important statements of the Convention.
Who did the Dems advertise? A man by the name of Julian Castro, currently referred to as the "Latin Barack Obama." A mayor of a mid-sized city in Texas, he has never held statewide office. Apparently, politics and wooing certain demographics comes first. Political leaders still show an addiction to shiny new toys over proven ability. Ms. Tanden continues:
The United States is long overdue to have a woman on the national ticket. By 2016 we will have come ninety-six years since ratifying the 19th Amendment without once electing a woman to either office. People inevitably focus on Hillary Clinton (my former boss), though she has said she won't run and we ought to take her at her word (though I hope she changes her mind). Still, if Hillary doesn't run, that's no excuse for ignoring other women qualified for the job. Passing over women yet again would not just be an embarrassment, but a genuine handicap for our national politics.
But how do we avoid "embarrassment" when the party doesn't even bother to showcase up and coming stars…Kirsten Gillibrand? Amy Klobuchar? Why does a mayor no one ever heard of get a prime time speaking slot and not one of our Senators? Ms. Tanden may also not be aware that in 2008, Leon Weiseltier, editor of The New Republic, had these choice words to describe Hillary Clinton:
"She's never going to get out of our faces. … She's like some hellish housewife who has seen something that she really, really wants and won't stop nagging you about it until finally you say, fine, take it, be the damn President, just leave me alone."
Ms. Tanden states that we rank "80th internationally in the percentage of women in our national legislature." With statements like the one TNR's editor made above, it is no wonder. And "[g]overnorship numbers are even grimmer—only six states currently have women governors." Four of those are Republicans.
Tanden reports:
A growing scholarly literature suggests that female leaders are more active on "women's issues" than their male counterparts. For example, studies have repeatedly shown that women in Congress and state legislatures are more likely to prioritize issues like childcare, domestic violence, and women's health and reproductive rights. Women officeholders raise these issues more often in floor speeches, more frequently co-sponsor legislation to address them, and more often secure passage of such legislation into law.
Perhaps not enough women were aware that women legislators really do pay attention to the concerns of the whole woman, rather than condescending to them as one issue voters. That is why it was doubly painful that someone who had long been such a champion for women was treated so disrespectfully in 2008, and why we show few signs of departing from that mistake. Should Hillary Clinton run in 2016, she will have to endure ageism and sexism…Only we have the power to stop that ingrained bias or feeding frenzy, rejecting spin and bias in favor of fact and attention to a candidate's actual record of achievement. Any woman running should not have to hold up the banner for all of womanhood or motherhood in her demeanor, dress, voice or some ever-shifting likeability metric. That is a hurdle too high for any candidate.
Tanden concludes:
"[A]s the self-proclaimed party of women's rights, Democrats should aspire to place a woman on the ticket in 2016. It's long past time."
Tell that to Weiseltier, Matthews, Eagan and company. It is doubtful their ingrained stereotypes have evaporated.
************************
Anita Finlay is the author of Dirty Words on Clean Skin: Sexism and Sabotage, a Hillary Supporter's Rude Awakening, now available in print and Kindle editions on Amazon.
Like Anita Finlay, Author on Facebook.
Follow @AnitaFinlay on Twitter.